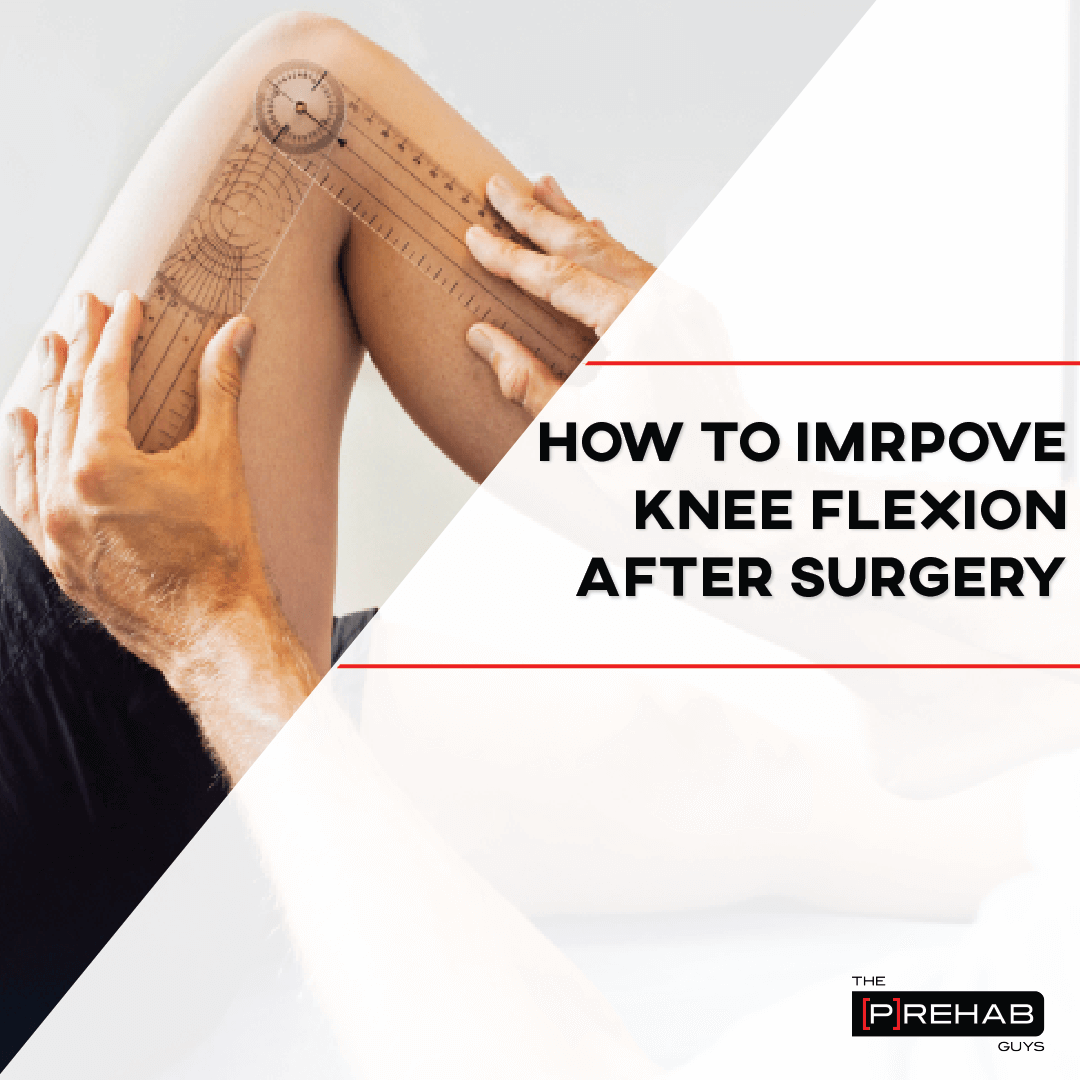 After surgery, understanding how to improve knee flexion is absolutely critical. While we've discussed the importance of regaining knee extension extensively, restoring knee flexion is a close runner-up for your rehab goals after surgery. Restoring knee flexion is often not comfortable (as can be for any motion after surgery!), but with dedication and consistent time spent working on your mobility, we are confident you can get there! In this article, we're going to cover some of our favorite exercises to improve knee flexion after surgery!
Why is Improving Knee Flexion After Surgery Important?
Now first things first – please listen to your orthopedic surgeons' range of motion guidelines! Not every knee surgery is the same, as there may be different precautions you must follow after a meniscus repair vs. an isolated ACL reconstruction. After some surgeries, you may want to push the range of motion to what is tolerable, whereas in others, pushing the range of motion past a certain degree may actually be harmful! So again – please listen to your physical therapist and orthopedic surgeon for guidelines on how to improve your knee flexion depending on your exercise parameters!
When it comes to starting to move so that you can actually improve knee flexion after surgery, it may not be all that comfortable.
Much of the lack of knee flexion immediately after surgery is not only due to pain, but also knee swelling or edema in response to the surgery. Inside of your knee is a joint capsule that surrounds the entire joint, imagine this joint capsule is shaped like a balloon. When there is increased swelling in the joint, the balloon gets bigger. It gets a lot harder to bend the knee with a bigger balloon inside of it! Thus, it's important very early on to follow the P.O.L.I.C.E. principle of protection, optimal loading, icing, compression, and elevation to minimize as much swelling as possible as that will only limit our knee flexion gains after surgery!
Knee Flexion Exercise Volume Is Key
As our bodies are healing from surgery, our tissues are undergoing many changes. YOU are your body's best healer! Early mobility has not only been deemed appropriate after surgery but also necessary in order to facilitate a healthy healing response. An article by Kaye et al discusses the positive outcomes related to early mobility after surgery, some of which include decreased hospital length of stay, improved patient satisfaction, and decreased postoperative complications! Later on, in the middle and late tissue healing phases specifically, we want to gently apply forces to the tissues inside of the knee to increase the range of motion. This will assist in tissue remodeling and the long-term success of tissue healing. A great overview of tissue healing phases from start to finish is well explained in a blog post we have recently written!
The key to improving knee flexion after surgery is gently pushing into that uncomfortable range and trying to progressively increase the amount of time you spend there with each successive day.
What may feel tight and uncomfortable today should hopefully feel less restrictive tomorrow! But as any good physical therapist will tell you – each day is a new day. You should expect that some days are going to feel tighter than others, sometimes for no apparent reason! But many times, certain parts of the body may feel tighter because you did "too much too soon" the previous day or earlier in the day and the knee is more swollen.
Remember – minimizing swelling after surgery is goal number one! If you find that your knee is more swollen after your knee flexion exercises, it means you are doing too much! Scale back the intensity of the stretches, how much you are doing, or both until you find the amount of mobility work that your knee can handle at this time. The amount it can handle, like the tightness you feel each day, will change in time!
Looking For A Guided Program Following A Knee Injury?

The knees are true hard nosed blue collar workers! They get the job done when the hips and ankles may be taking some extra rest breaks. In this program, you will learn how to restore mobility, learn to get your powerful quadriceps cooperating with you, along with starting the journey to addressing the hip and ankle. In this program, you will learn how to restore mobility, learn to get your powerful quadriceps cooperating with you, along with starting the journey to addressing the hip and ankle.
Tips and Tricks to Restore Knee Flexion After Surgery
Knee Flexion After Surgery Exercises
The following exercises are some of our favorites to improve knee flexion after surgery! You will most likely find that one or a few of these exercises "feels best" for you, which is expected! Your knee is unique! Your surgery, injury, the current range of motion, pain levels, and so much more will dictate which of these exercises feels the most comfortable and effective for your knee.
Seated Knee Flexion Exercise After Knee Surgery – PROM, Other Leg Assist
Sample Knee Rehab Program Exercise Video
HOW: Sit at the edge of a table or some sort of elevated surface. Ideally, you don't want your feet to touch the ground. Place your unaffected leg under your affected leg, fully supporting it. Slowly let your affected knee bend by lowering your feet. At some point, you will feel a gentle stretch. Hold for the desired amount of time, and then use your unaffected side to help straighten your knee out once again. Repeat.
FEEL: If you are doing this after surgery, it is normal for this exercise to feel a bit uncomfortable. There should never be any sharp pain, but aching is fine.
COMPENSATION: Relax! Use your other leg to support your affected side.
Knee Flexion On Wall Exercise After Knee Surgery – PROM
Sample Knee Rehab Program Exercise Video
The Prehab membership is the anti-barrier solution to keeping your body healthy. Access state-of-the-art physical therapy, fitness programs, and workouts online in the comforts of your own home or gym! Taking control of your health with exercise & education from the palm of your hand has never been easier. Get access to 50+ programs, 100+ unique workouts, and 3000+ exercises to build your own workout routines. Trial it for free, and learn how to get out of pain, avoid injury, and optimize your health with [P]rehab!
Seated Knee Flexion Exercise – AAROM With A Strap
Sample Knee Rehab Program Exercise Video
Body On Knee Flexion PROM
Sample Knee Rehab Program Exercise Video
HOW: Sitting on a bed or couch, remove your knee immobilizer. Put your heel on the ground with your knee unsupported. Using your arms and non-surgical leg, scoot your bottom forward with your surgical knee moving forward over your foot, moving into knee flexion. Use your arms and your non-surgical leg to return to starting position.
FEEL: You should feel a stretching sensation both around the front of your knee and even behind your knee. This should only be mild discomfort, and not too much pain! As you continue to relax into a new, available range of motion, you can continue to move your body forward.
COMPENSATION: Avoid leaning your hip away towards the opposite leg. Keep your hips square and even without shifting your weight away.
Closing Thoughts
Gaining mobility – flexion or extension – after surgery is one of the most important goals. Knee flexion, in particular, takes longer (that is expected) but with dedicated time working on it, we trust that you will get it back in no time! As always, listen to your orthopedic surgeon and physical therapist for guidance, but we are here to help when needed!
Rehab Your Knee The Right Way!

We make it easy and teach you how to self Rehab your knees and keep them healthy for anything life throws at you through detailed exercise programming and our signature education resource videos. Get started HERE!
References
Kaye AD, Urman RD, Cornett EM, et al. Enhanced recovery pathways in orthopedic surgery. Journal of Anaesthesiology Clinical Pharmacology . 35(1). doi:10.4103/joacp.JOACP_35_18.
About The Author
Michael Lau, PT, DPT, CSCS
[P]rehab Co-Founder & Chief Product Officer
Michael was born and raised in Northern California but now currently resides in Sunny SoCal ever since attending the University of California, Los Angeles as an undergraduate majoring in physiology. After his undergraduate studies, he received his Doctorate in Physical Therapy from cross-town rival the University of Southern California. As a licensed physical therapist with a strong background in strength and conditioning, Michael likes to blend the realms of strength training and rehabilitation to provide prehab, or preventative rehabilitation, to his patients. A common human behavior is to address problems after they become an issue and far often too late, which is a reactionary approach. He believes the key to improved health care is education and awareness. This proactive approach-prehab-can reduce the risk of injuries and pain in the first place. He is a huge proponent of movement education and pain science. Clinically, he has a special interest in ACLR rehab and return to sport for the lower extremity athlete.
Disclaimer – The content here is designed for information & education purposes only and is not intended for medical advice.
About the author : Michael Lau PT, DPT, CSCS
Related posts