Introducing the New & Improved
[P]rehab App
Take control of Your Health Anywhere at Anytime
55+ Programs
Get access to ALL of our comprehensive programs at once

, including all of the old programs which have now been immensely upgraded and improved
100+ Classes
Follow along class style videos led by a Doctor of Physical Therapy & Strength Coach with programming built on principles of load management, specificity, progressive overload, muscle group ratios, and more.
130+ Workouts
If you prefer effective single-day workouts in the areas of Mobility, Strength, Performance, and Warm Ups – we got you covered!
I have minimal pain now after beginning the full program
I committed to the year option with prehab and it has been life changing. I am not exaggerating at all. I have minimal pain now after beginning the full program, I can not say thank you enough!
– Jaime B
I highly recommend this app for rehab and overall health!
There are so many workout apps out there but this one is so unique! Not only is it user friendly and good looking but it's very educational and includes injury prevention and rehab. I really enjoyed using this app as PT student because it helps me see the many different exercises available and for certain regions of the body as well as hearing patient education from different providers.
– Skyler D.
I have finally found something that I can actually benefit from that's tailored to me, my strengths, and more importantly my weaknesses
I've tried all the training apps from Nike Training apps, influencer apps, etc. I have finally found one I can benefit from. From finding them on social media and following their development as a team has been amazing to see. YOU GUYS HAVE DONE IT AGAIN
– Andrew S.
So much more than any other app!
The exercises are professionally recorded and explained, very easy to understand. I like the simplicity of the app and find it super educational, so much more than any other app!!
– Craig A.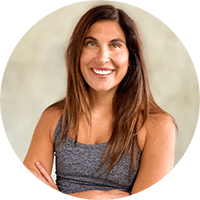 This app has everything you need for self-rehab with the guidance of a PT-led and created program.
As a PT, I'm always looking for ways to keep my clients accountable at home. This provides a fool-proof way to continue your fitness and wellness journey on your own at home.
– Lauren F.
My shoulder is now healthier than it was before
I completed your Rehab program and now midway through the Prehab program! My shoulder is now healthier than it was before my rotator cuff injury!
– Tara C.
[P]rehab is incredibly accessible and has a number of programs that I used to help rehab various injuries.
I was able to customize my training to focus on my unique issues and almost immediately found results. The [P]rehab team is filled with subject matter experts and the app really reflects their work and approachability. 100% confident I'll incorporate the app into my daily training regiment
– Stephen J.
This app will revolutionize the pain process and help thousands who unfortunately until now, had to suffer through it all and just settle.
As an instructor of trainers, I've taught over 5,000 aspiring PTs on what it takes to become a successful personal trainer. When it comes to injuries, we refer out to experts like everyone on the Prehab Team. With their newest APP, the process has become so much easier and more effective then ever before. There is now hope for people in pain! Highly recommend for EVERYBODY.
– Chris H.
Absolutely love the app!!
So sleek and easy to use. Makes it way easier to stay on top of my programs
– Nate H.
Common Problems With The Traditional Healthcare Path
We refuse to sit back and watch people live unsatisfied lives. This is not just a "movement" app or a "rehab" app. This is an app to take control of your health through optimization to live a satisfied life.
Lack of access to quality in-person care or knowledge

Lack of time in your schedule or lifestyle for in-person services


Not in control of your health outcome – having to wait on tedious appointments or services
Over-prescribed medication and reliance on ineffective medical interventions

Tedious, insufficient results & not knowing what doesn't work

Lack of financial resources or insurance benefits
Benefits of the [P]rehab App vs Traditional Health Care:
No wait time to find your solution!

No rush of getting you "out of the office", there is no time restraint on the app allowing you to become as educated as you desire.
No unnecessary imaging, injections, or uncertainty.

Save an average of $2,800 with easy-to-access exercise & education material compared to your average costs of in-person healthcare services for a similar duration.
The [P]rehab Path:
Have The Solution in the Palm Of Your Hand!
Learn how to properly build a robust system that is resilient to risk of injury!

Easy to digest physical therapy education videos & resources to learn about your body

Zero wait times, no hidden fees, no barriers to entry!

Remember, these programs are available to you at your fingertips from anywhere in the world
List of all programs included in the New Prehab App